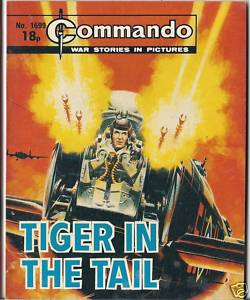 Back Cover Summary
Edit
The most dangerous job in the RAF - that's what people said about 'Tail End Charlies', the rear gunners who were always the first target for enemy fighters. This story is about Charlie Stevens, a man who set out to make the job dangerous indeed - for those enemy fighters!
Story by ?
Art by Amador
Cover by Ian Kennedy
Publishing History
Edit
First published as no 621 in February 1972. Republished as no 1699 in May 1983.
Republished in True Grit collection Pages 264 - 327.
References
Edit